Blog › November 2010
November 19, 2010
---
View my new listing for sale at
,
and currently listed at 0.
---
November 4, 2010
---
The Moving company, Van Line Express has some great advice & tips regarding packing and moving. Below is one item from their website - great help! For more tips click on
http://vanlineexpress.com/refresh/templates/moving_tips.php?id=106
or go to www.vanlineexpress.com and look for 'Moving Tips'
First Night Survival Guide
If your shipment hasn't arrived or you're simply too weary to unpack everything, set aside some essential items you'll need for the first night in your new place.
Food/Kitchen supplies

Snacks, sandwiches

Bottled water

Plastic plates, cups, utensils

Can openers

Paper towels, napkins

Garbage bags



Toiletries

Toothbrushes, toothpaste

Soap, shampoo

Toilet paper

Contact lens case, solution

Towels

Hygiene products



Medication

Prescription medicine

First aid kit, band-aids, peroxide



Tools

Flashlights

Candles, matches

Screwdriver

Pliers

Scissors

Light bulbs



Clothing

Enough clothing for a few days

Sleeping bag, blankets


Children's items (if applicable)

Baby food

Diapers

Favorite toys

Food, treats

Bottled water


Pet's items (if applicable)

Food

Leash

Water dish

Any medication

---
November 3, 2010
---
Home sales remain steady in Greater Vancouver
Greater Vancouver home sales have remained steady over the past four months, indicating stability in the residential housing market. With the MLS® sales to active listing inventory ratio indicating a buyers' market, properties appropriately priced are selling.
According to the MLSLink® Housing Price Index (HPI), the benchmark price for all residential properties in Greater Vancouver over the last 12 months has increased 4.6 per cent to $579,349 in October 2010 from $553,702 in October 2009. Since June, however, residential home prices in Greater Vancouver have remained relatively unchanged, declining 0.2 per cent.
"We've seen a lot more consistency and less volatility in recent months when it comes to both number of sales and pricing, although it's important to remember that conditions often vary between communities and neighbourhoods," Jake Moldowan, Real Estate Board of Greater Vancouver (REBGV) president said.
Looking at transactions, the number of residential property sales in Greater Vancouver totalled 2,337 in October 2010. This represents a 5.3 per cent increase compared to September 2010 and a 36.9 per cent decline from the 3,704 sales in October 2009.
More broadly, last month's residential sales represent a 71.3 per cent increase over the 1,364 residential sales in October 2008, a 22.8 per cent decline compared to October 2007's 3,028 sales, and a 14.1 per cent decline compared to the 2,722 sales in October 2006.
"As we enter the final two months of the year, buyer demand is in closer alignment with supply than we've seen for most of 2010," Moldowan said. "Those buying today recognize that they still have a chance to enter the market with near-record low interest rates, while gradual reductions in inventory have eased downward pressure on prices."
Total active listings on the Multiple Listing Service® (MLS®) in Greater Vancouver currently sit at 14,075, an 8.6 per cent decline from last month and a 16.4 per cent increase from October 2009. New listings for detached, attached and apartment properties declined 25.7 per cent to 3,698 in October 2010 compared to October 2009 when 4,977 new units were listed.
Sales of detached properties in October 2010 reached 976, a decrease of 34.4 per cent from the 1,487 detached sales recorded in October 2009, and a 98 per cent increase from the 493 units sold in October 2008. The benchmark price for detached properties increased 6.3 per cent from October 2009 to $796,883.
Sales of apartment properties reached 984 in October 2010, a decline of 38.8 per cent compared to the 1,607 sales in October 2009, and an increase of 52.1 per cent compared to the 647 sales in October 2008.The benchmark price of an apartment property increased 2.4 per cent from October 2009 to $390,074.
Attached property sales in October 2010 totalled 377, a decline of 38.2 per cent compared to the 610 sales in October 2009, and a 68.3 per cent increase from the 224 attached properties sold in October 2008. The benchmark price of an attached unit increased 4 per cent between October 2009 and 2010 to $487,530.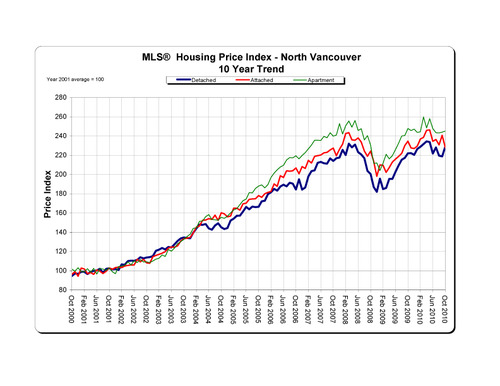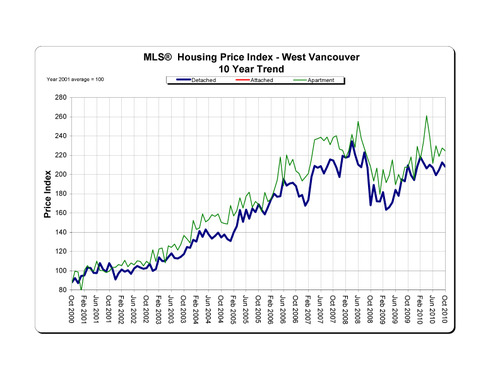 ---